Want to uninstall or remove a Linode server? The following video will show you how.
If you have been looking around for a web hosting company that utilizes ssds you have probably heard of Digital Ocean.
Digital Ocean is a great web host but if you want some variety or if you want to try a different
all ssd hosting company you should check out Linode.
To learn more about pricing click the following link: https://www.linode.com/pricing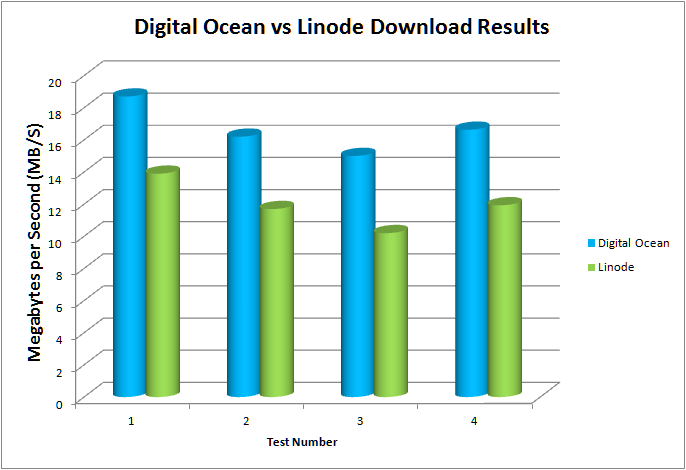 Hello everyone! Today we tested the download, disk write, and disk read speeds. Here is a data table with the results of the tests.
You can also download the PDF at the bottom of the page if you want to save it on your computer
| | | | | | |
| --- | --- | --- | --- | --- | --- |
| | | | | Speed in MB/s | Speed in MB/s |
| Test Type | Test Number | Location | Test | Digital Ocean | Linode |
| Download | 1 | Internet | wget speeds from http://mirror.internode.on.net/pub/test/1000meg.test | 18.7 | 13.9 |
| Download | 2 | Internet | wget speeds from http://mirror.internode.on.net/pub/test/1000meg.test | 16.2 | 11.7 |
| Download | 3 | Internet | wget speeds from http://mirror.internode.on.net/pub/test/1000meg.test | 15 | 10.2 |
| | | | Average | 16.63 | 11.93 |
| | | | | | |
| Test Type | Test Number | Location | Test | Digital Ocean | Linode |
| Write | 1 | Disk | sync; dd if=/dev/disk of=tempfile bs=1M count=1024; sync | 364 | 292 |
| Write | 2 | Disk | sync; dd if=/dev/disk of=tempfile bs=1M count=1024; sync | 395 | 306 |
| Write | 3 | Disk | sync; dd if=/dev/disk of=tempfile bs=1M count=1024; sync | 390 | 290 |
| Write | 4 | Disk | sync; dd if=/dev/disk of=tempfile bs=1M count=1024; sync | 379 | 294 |
| Write | 5 | Disk | sync; dd if=/dev/disk of=tempfile bs=1M count=1024; sync | 383 | 298 |
| Write | 6 | Disk | sync; dd if=/dev/disk of=tempfile bs=1M count=1024; sync | 408 | 301 |
| | | | Average | 386.5 | 296.83 |
| | | | | | |
| | | | | | |
| Test Type | Test Number | Location | Test | Digital Ocean | Linode |
| Read | 1 | Disk | dd if=tempfile of=/dev/null bs=1M count=1024 | 887 | 546 |
| Read | 2 | Disk | dd if=tempfile of=/dev/null bs=1M count=1024 | 1,228.80 | 642 |
| Read | 3 | Disk | dd if=tempfile of=/dev/null bs=1M count=1024 | 945 | 594 |
| Read | 4 | Disk | dd if=tempfile of=/dev/null bs=1M count=1024 | 1,126.40 | 582 |
| Read | 5 | Disk | dd if=tempfile of=/dev/null bs=1M count=1024 | 987 | 651 |
| Read | 6 | Disk | dd if=tempfile of=/dev/null bs=1M count=1024 | 1,126.40 | 692 |
| | | | Average | 1,050.10 | 617.83 |